Every year, we welcome three amazing artists unfettered access to our studios through our unique Residency Program. We are excited highlight an alumni from this program, our 2015 Resident Artist, Julia Arredondo and share her post-Residency trajectory.
Julia Arredondo is an artist, writer, budding entrepreneur, and zine maker. She runs two publishing entities, Vice Versa Press and Curandera Press. Arredondo is originally from Corpus Christi, Texas and her mixed Latinx-Italo background has inspired a lifetime of exploration. She cut her chops early by making show flyers and organizing community events; and now she designs, creates, and produces artwork both for aesthetic and functional purposes.  She is currently pursuing her MFA at Columbia Chicago.
Angee Lennard (AL): What were you up to before your residency at Spudnik Press? Were you making lots of art or more in an incubation phase?
Julia Arredondo (JA): Before my Spudnik residency, I was living in a one-bedroom apartment with my Mom in rural Oklahoma. I like to consider my time in Oklahoma an incubation period, where I worked on my websites and developed the vision for my DIY business, Vice Versa Press. I documented old work, re-examined half-written zines, cooked meals for my Mom, cleaned. It wasn't the most pleasant of times, which is why the residency provided me with such a pivotal opportunity for my practice. There was no future for me in Oklahoma.
AL: During your residency, your main project was developing the zine Guide to Being Broke & Fabulous. Can you talk about your goals for this project?
JA: I had been wanting to write Guide to Being Broke & Fabulous for at least a year. I'd done some time interning at Island Press in St. Louis (which is where the idea initially came to be) and traveling from residency to residency had provided me a life of freedom, but without much cushion and without any luxury. People always asked me how I was able to get around so efficiently, and I wanted Guide To Being Broke & Fabulous to detail the lifestyle that I had grown accustomed to but which was very foreign a concept to a majority of people. My goal was to express the lifestyle of instability, which I think a lot of people romanticize, but to express the ups and downs and the magic that is intertwined with the politics of cool and socio-economic disparity.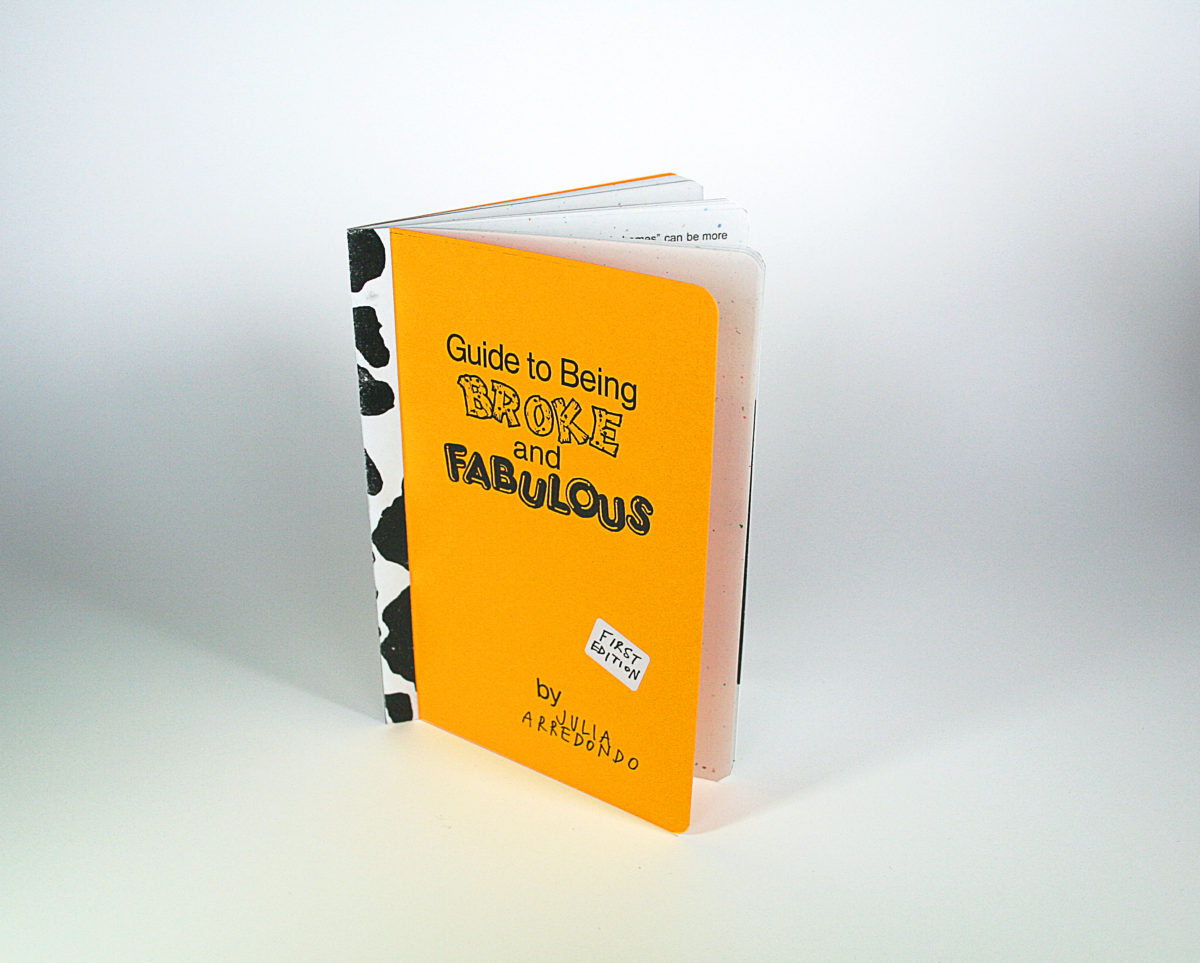 AL: Now that it's been a few years since your residency, can you talk about if or how the Spudnik residency impacted your artistic trajectory?
JA: The residency pretty much put me back on track to having the art career that I worked so hard to attain. I'm still working at it, but the residency provided me with the space and tools necessary to see my vision through without having to pick up and go for the zillionth time. I'm still located in Chicago, and I attribute that to Spudnik Press completely. I'm pursuing my MFA at Columbia College and I'm part of a creative community that would have been near impossible to penetrate without the help of the Spudnik residency. The Midwest art circuit is insular in many ways; Spudnik Press welcomed me into the community, no questions asked.
AL: After your residency, you stuck around Spudnik as a studio artist and are now working towards a masters degree at Columbia College. You've mentioned how you've enjoyed "infiltrating academia." Can you share a joy and challenge of heading back to school?
JA: Academia is full of opportunities and this I recognized early on having grown up in a poorer part of the country. Academia was my ticket out of the lifestyle that I had grown up in, and I didn't want to struggle the way I had watched my family struggle in order to get by. Sure, I struggle in my own way, but the life I've chosen is pretty much that…MY choice. Academia has classist and racist tendencies which are obviously problematic, so it's difficult at times navigating those spaces. And as a person without support from my family, getting a leg up in the art world seemed to require me to talk the talk even if I wasn't born to walk the walk if you know what I mean. But I'm here regardless, here to infiltrate the bourgeois systems and have a decent time doing it.
My favorite part of going back to school is learning how to read again. I hadn't realized that I'd lost so much focus in my artistic research practice.
AL: Your work includes DIY zines, punk fliers, craft, and fine art objects, and often it's hard to tell what category to place your artwork. Is it important to you that these often isolated art forms are brought together? 
JA: Ugh I don't know, I'm still struggling with all of my different practices that vary so widely. My answer to this dilemma is branding. I have Vice Versa Press, which began as a counter-cultural publishing entity but is transitioning into a lifestyle brand. I have Curandera Press, which is a web shop that specializes in handmade ritual and magic goods. And then I have Julia Arredondo, fine artist and designer looking to make the big bucks. Business is a huge part of my practice, and I'm trying to incorporate my making practices into a sustainable career.
AL: Speaking of sustainability, we recently were talking about the conflict between "punk economy" and sustainability and how value is perceived in different economies. Is your priority to find a way for your own economic sustainability? Or are you more focused on tinkering with these established value systems? 
JA: Hell yes my priority is carving out a sustainable career for myself. Otherwise I'll be at the mercy of a global economy that places little value on labor by women and people of color. The odds are against me in that market! However, I'm also interested in exploring the alternatives that exist within our capitalist system and playing within that realm that is so incredibly oppressive. Maybe I'm here to troll. It'd be great to bank, but mostly I'm here to work and push boundaries–hopefully without going to jail. That is my real goal.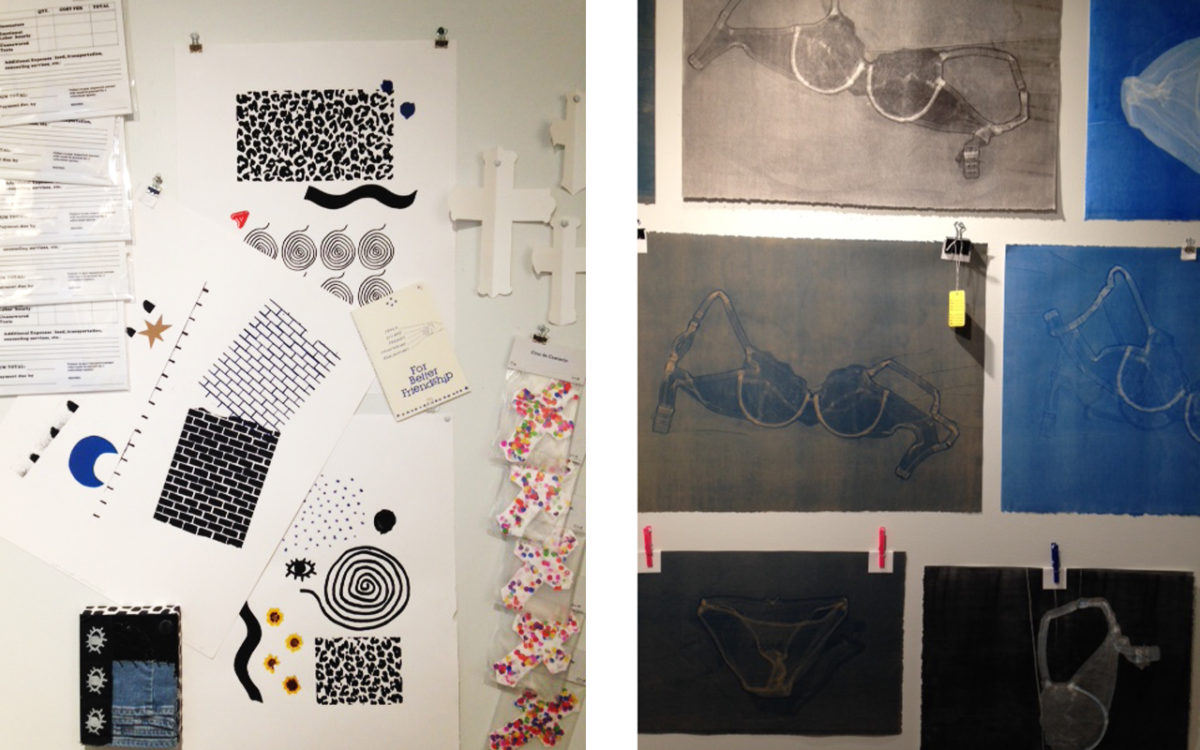 AL: Do you have any shows coming up soon? Where can people see your art in person?

JA: I'll be exhibiting with Curandera Press at the Slow & Low lowrider fest in September, but I'm pretty much just working and reading and trying to center myself for the next big project I'm planning to release this year titled "Addicted to the Money". It'll be a poetry suite documenting my time working as a Sugar Baby. I've got plans to release a cassette tape this year, but I've gotta get back to my musical roots for that. It's been a while. I'm currently off the grid for a month, so the best place to view my art right now is on Instagram via @cop_charmer_69, @viceversapress, and @curanderapress.
Where can you read more about Julia?
The Overlook, June 2018
ReMezcla, December 2017
Bmore Art Blog, April 2016
Project Nerd, September 2015
Clocktower Radio, September 2015
Citypaper (Review of Baltimore Breakups), February 2015