Starting August 1, 2021:
Spudnik Press offers weekly Masks Optional days on Mondays. We kindly request that everyone, regardless of vaccination status, continue wearing masks at Spudnik except on specific Mask Optional days.
If you choose to visit Spudnik Press on a Mask Optional day, please keep in mind:
According to the CDC, if you are not fully vaccinated, you should wear a mask in indoor public places for the safety of yourself and those around you.
Masks are required to enter the building and should be worn from the entrance of our building to the entrance of our studio.
Masks are always welcome and we continue to have masks freely available at the entrance to our studio.
Visitors are still expected to disinfect their work spaces, wash hands frequently, and stay at home if sick.
Where can you get a vaccine? Visit: https://www.chicago.gov/city/en/sites/covid19-vaccine/home/vaccine-finder.html
---
Everyone using communal space must agree to our protocols by signing a COVID-19 waiver.
Our studio is committed to provide a comfortable and safe space for everyone. The following policies and protocols are in place to ensure a healthy environment, and will be updated regularly as city and state regulations evolve.
Capacity & Reservation Limits:
To ensure social distancing is feasible, there are capacity limits for the entire studio, as well as specific areas.
Everyone using communal space must be enrolled in a class or have reservations.
Private studio renters may work within their own studio at their own discretion, but must follow all our policies when in shared spaces.
The guillotines, typesetting/paper cutting area, and computer station are shared spaces that cannot be reserved.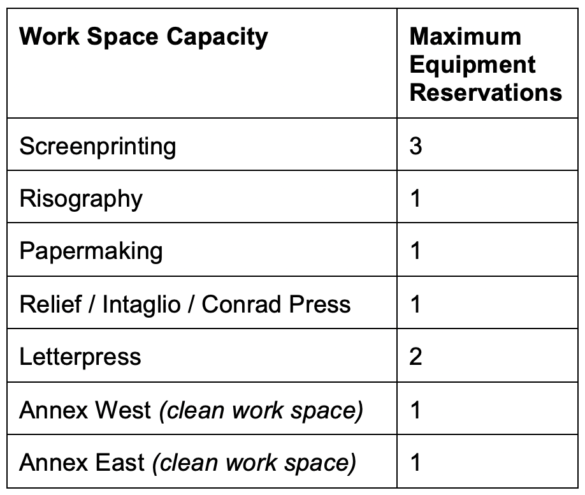 Cleaning & Disinfecting:
We are relying on visitors to disinfect their work area for the next person. At the end your visit, disinfect all surfaces you come in contact with. EPA-approved disinfectant is readily available.
Everyone is expected to follow all CDC health and safety guidelines including frequent hand washing and/or the use of hand sanitizer.
staff also regularly disinfects all hard surfaces.
Hand sanitizer is available in each area of the studio.
4 air purifiers are stationed throughout the studio.
When possible, doors and windows will be opened to increase ventilation.
PPE:
Masks are required to enter the building and while working in shared studios.
Masks may only temporarily be removed at the designation eating station. After use, this station must be thoroughly disinfected.
Stay Home If:
You have a cough, temperature higher than 100 degrees, loss of taste, shortness of breath, or other possible COVID-19 symptoms.
You have not maintained CDC health and safety guidelines.
You have been in close contact with or cared for someone who has been diagnosed with COVID-19 or is suspected to have COVID-19 within the last 14 days.
Reservation Details:
Be mindful of moving through the studio beyond the area you have reserved. To support social distancing, each area of the studio is stocked with basic tools.
We are temporarily waiving cancellation fees for people exhibiting any Covid-related symptoms who reach out either by 9am on the day of their reservation or with 4+ hours of notice.
Visitors are requested to self-report to staff if they are diagnosed with COVID-19 to allow Spudnik Press to take the necessary steps to ensure the safety of others.
In the case of a confirmed case of Covid-19 at the studio, Spudnik Press Cooperative will close for a minimum of 36 hours to allow for enhanced disinfection and ensure that the most current CDC guidelines are followed.
Staff, monitors and instructors reserve the right to remove anyone from the studio for failing to comply with safety requirements. Tuition or other studio fees will not be refunded in the event of dismissal for failing to follow safety rules.
Contact us with any questions regarding covid precautions within our studio by emailing info@spudnikpress.org.