Spudnik Press is turning 14! We are celebrating through three different avenues that bring our community closer despite being socially apart since the pandemic. We invite you to support our milestone and make a huge impact on Spudnik's mission today and beyond. 
Throughout the month of June, we are highlighting the amazing people that make up our community through a series of email interviews! On our birthday (June 8th), we will launch a flash fundraiser on Facebook to raise money for a wheelchair-accessible hand sink with eyewash station and we need your support! Please consider pitching in to buy us a communal birthday present.
Later this month, we are also launching a limited edition shirt to raise funds as we continue to safely re-open and resume more classes and workshops.
After a challenging year, we definitely need a steady and predictable source of funding to fuel our many programs and studio upgrades. We invite you to bring stability to the studio by supporting our new Sustainability Fund by giving a monthly recurring donation. In light of Spudnik's 14th birthday celebration, we suggest $14 a month, but any amount makes a difference. And it's super easy to set up!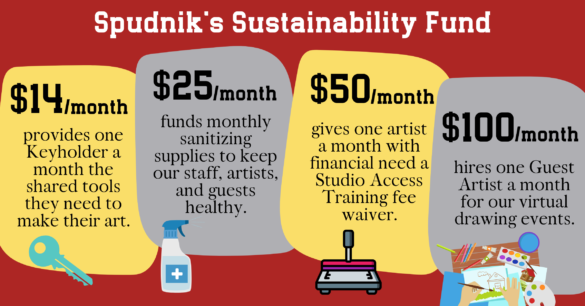 Our goal is to welcome 25+ sustaining donors by the end of our birthday campaign so we hope you can share this cause with your friends and family. Thank you so much for your support!