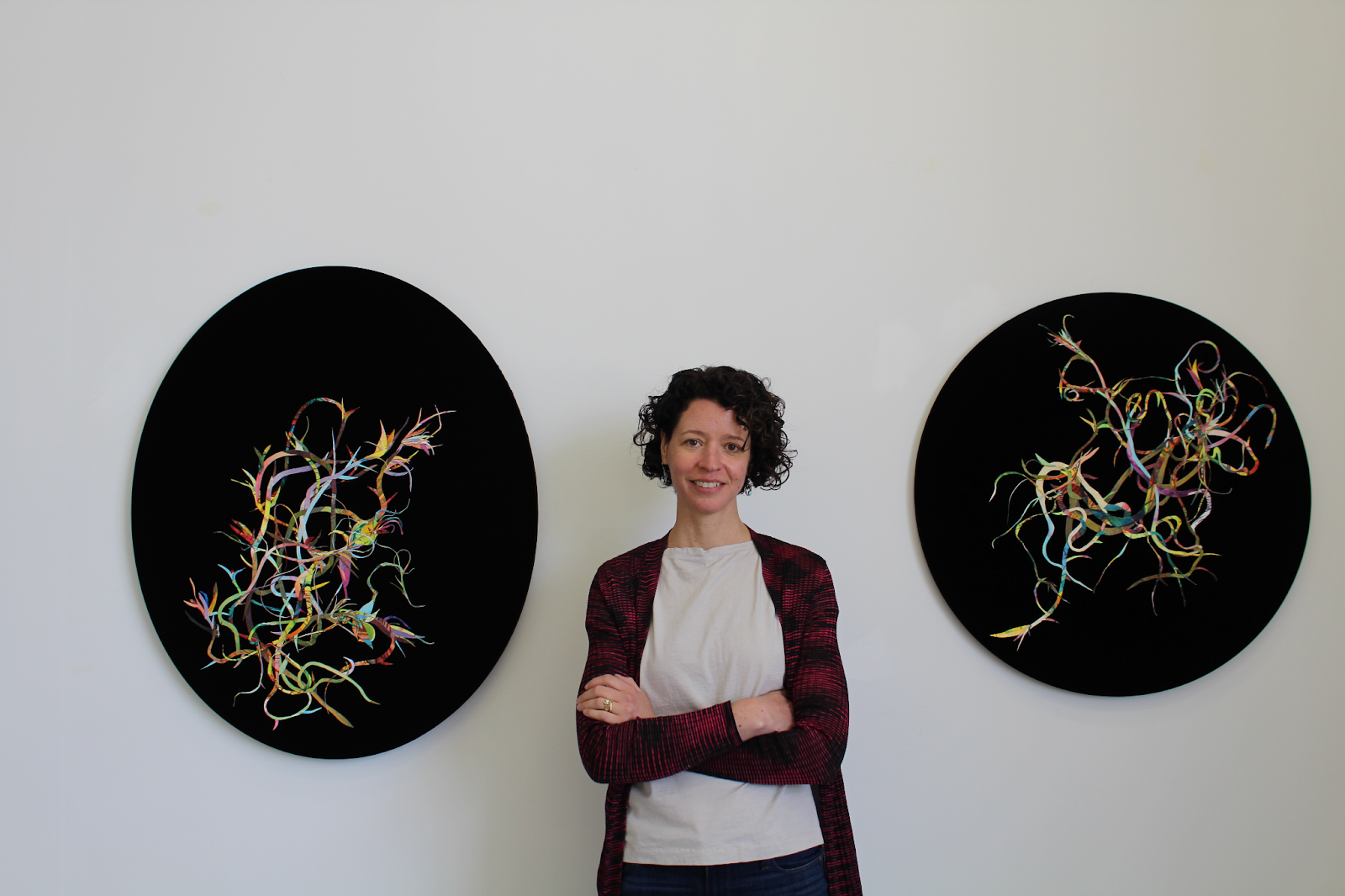 Holly Cahill is a Chicago based multidisciplinary artist working in painting, drawing, fibers, sculpture, print, and collage. Her process-oriented abstractions weave together elements of the fantastic found at the heart of our domestic and shared environments. Cahill received her MFA from the College of Design, Architecture, Art, and Planning at the University of Cincinnati and her BFA from the College of Visual and Performing Arts at Syracuse University. She is the current Director in Chicago of Tiger Strikes Asteroid, an artist-run, non-profit network of gallery spaces with locations in Chicago, New York, Los Angeles, Philadelphia, and Greenville.
Holly was interviewed by Samantha Foster as part of the Summer 2021 Internship at Spudnik Press Cooperative. Sam is a printmaker pursuing her MFA in Fine Arts at Columbia College Chicago.
Below is the interview that touches on community involvement, artistic collaboration, Holly's 2018 residency at Spudnik, and her career trajectory.
---
SF: Let's start with what brought you to Chicago. Why did you move here, and what made you decide to stay?
HC: I moved to Hyde Park with my husband, Zach, when he got into University of Chicago for his MFA. We love Chicago and it's always a challenge to take in everything the city has to offer. There are a million things happening at once and I often feel I fall short on everything I want to be doing and seeing, which is to say that I'm very proud and grateful to live in such a dynamic and engaging place. Relocating to Chicago was tough in the beginning, just trying to find community after graduate school and not knowing anyone. That was over 15 years ago now.  It was a saving grace that Zach was going through his MFA program, so I got to meet all his colleagues and fellow students at the start of our time here.
SF: Community seems to be a thread that connects your work as an artist and an organizer. What does community mean to you and how does it manifest in your artwork?
HC: I think, community can mean a variety of things in different contexts. For me, being part of a community is essential. It has to do with considering those around you and feeling a sense of belonging to something whether it's in the context of a print shop or an exhibition space and, as artists, finding ways to share our practices, goals, values, and resources. In any community, if we can get to a place where each person we are spending time with feels valued, then I think we can all grow and learn from one another through our involvement. I feel this sense of community as a member of Tiger Strikes Asteroid (TSA). We each take turns curating exhibitions, but we also collaborate on them and other projects as a group, which has brought us closer together in creative ways. We aim to be supportive of the artists we work with through our exhibitions and programming and consider them to be a part of the community as well as those that visit and are supportive of our program in other ways.
I've thought about community in terms of my own practice too. I refer to my collages as mimicking an ecosystem.  They contain scraps which originate from a variety of processes, sources, and points in time that are then gathered together in forms that more recently reflect on growth within a diverse ecosystem. In many of these works, I've been inspired by vines that navigate the shadows to locate other plants they can use as support for their development. I've also referenced roots in my work and the vast networks that trees, for example, form with one another underground. More recently, I've been learning about moss, which is a very ancient plant species that is incredibly adaptable and can serve as a protective environment for a host of other creatures like insects.
I'm always interested in the many ways we can realize how interconnected we are within our environment – how we can respond to and find meaning through those experiences.
SF: It's great you're able to make connections between your own work, TSA, and the organizations you've been involved with. Does collaboration impact your art practice?
In a way as artists we're all working somewhat collaboratively by sharing our work, through our awareness of the trajectory of art history, and being influenced by those experiences. For the most part, my practice has been a fairly solo one while my curatorial work has been more collaborative. I have co-curated several exhibitions and find that a really generative way to be working in collaboration.
It wasn't until more recently that collaborative elements began to enter into my own practice. A very old and dear friend of mine, Meredith Haggerty, started a project called Collage Stop. The first iteration was a workshop she organized at the Art Therapy Institute of North Carolina where she invited myself and another artist from the San Francisco bay area, Erin McCluskey Wheeler, to participate by contributing scraps to the event. The community from the area was invited to make work with our scraps and contribute to a fundraiser for a new program that they had been working on to support immigrants and refugees.
That was the first time I was part of something like Collage Stop, where I was giving parts of my work away for others to use. The funny thing is with scraps, the more you use them the more you have. Since the event, Meredith kept some for herself and mailed others to Erin and I. We have all been using them in our works since. Erin will often post images of her work and point out where scraps of other artists are within it. It's fascinating to see a little piece of my work in hers. Likewise for my collages, there are little scrap pieces of Meredith's painted gold, and Erin's variety of different types of colorful marks. During all the isolation we've been experiencing throughout the pandemic, having their scraps to use made me feel a closeness to other artists working.
The experience also broadened my vocabulary which is something I'm trying to do within my work – to bring together these varied and rich surfaces, marks, and colors. Once I started working with their scraps I thought "wow, I would have never done this." Working with gold seemed like too much, but collaborating with Meredith got me engaged in the ways she finds meaning within it. The same thing happened with Erin. There are certain colors she gravitates toward that I would not normally use because my color palette tends to be a certain way. This project broadened the way I was working and the choices that I was making. There are definitely some collaborative elements to that way of working even though I feel strongly that Erin's work is hers whether she uses my scraps or not, and the same with Meredith.
SF: Like a behind the scenes collaboration. It's not the first thing you know about the work, but there's another layer. You're not necessarily saying "this is brought to you in part by a collaboration with Holly, Meredith, and Erin." It's more like, this is the work, which includes collaborative aspects that makes it rich and dynamic.
HC: Yes, that makes it all possible: shared resources. It's similar to how Spudnik not only has equipment, but knowledgeable staff and printers that you can learn from when you are occupying that space together. I think art benefits from that kind of cross pollination. One of my favorite things is working alongside other artists and participating in that way of observing the activity around you that also allows each person to work independently – where we can come together and veer apart.
SF: Speaking of shared resources and collaboration, how did your Spudnik residency create new methods of production that helped you make discoveries, and do you still utilize them today?
During graduate school, I was very active in print, especially lithography. After graduation the idea of working in a cooperative print shop didn't occur to me, and I didn't have the equipment to continue making prints on my own in the way that I once was. Subconsciously it didn't seem like an option to explore, so it took seeing the inspiring work that was coming out of Spudnik to get me back to print. Kelly Kaczynski made an incredible set of woodcut prints at Spudnik with Stan Shellabarger where she developed a technique with many pieces where they could be assembled and reassembled over time to build up the stages that appear in much of her work. Seeing Kelly's work led me to apply for the residency at Spudnik. At that time, I had been deep into the development of a body of work on paper that references illuminated frameworks created with painting, resist, and graphite. Through the residency, I wanted to tease out the dense layers within that work.
Because I was just getting back into print, I thought it would be interesting to explore several types of processes. I used aquatint, sugar lift, engraving, and other techniques too. I worked with the idea that each plate was a field of activity and tried to rethink my process of layering. I was also interested in chance elements, so I was placing objects between the paper and plate too – different pieces of fabric, cut paper, egg shells, and threads. In the beginning, the layers retained dense space that was closely related to my prior works and I felt stuck. That's when one of the other resident artists suggested printing off the plate. I tried that and it opened up and allowed this light to come in. All these layers were relating, but then I could build on that to create a matrix. I used monotype on some of them so there were continuations/repetitions of forms. It was satisfying for me because they were all unique prints but then they also formed one work as a whole when I arranged them together and continued working on them.
SF: Having the other resident give that suggestion also ties into this shared space. Especially with anything creative, you can get lodged into one way of thinking and it takes someone with fresh eyes to give another perspective.
HC: It's so true. I will be forever grateful for those suggestions. I think as artists we often want the idea to only come from us, but sometimes a little push from someone with fresh eyes is just what you need and kind of the reason you're there to begin with.
SF: Your CV shows an upward trajectory. Were your achievements planned or did they naturally grow into further opportunities?
I think opportunities build on opportunities. The biggest shift for me was being able to leave the full-time paralegal work that I was doing and to focus more on my own practice. At the same time, around 2016, I was approached about becoming a member of Tiger Strikes Asteroid and it wasn't even on my radar to eventually take on a directorship. Anna Kunz and Michelle Wasson were the first two co-directors who started the chapter here and got the program running. Being a member of TSA was an important shift in focus for me. I've benefited a lot from not only having more time for my practice, but also by curating and working behind the scenes as a member of TSA.
In terms of curating, my first project with TSA was a big one because I discovered curating can be a productive way for me to explore my interests with other artists while also creating a space where I felt I was supporting them in ways and growing in new capacities. This has thankfully led to curatorial opportunities in other spaces.
In terms of my art practice, I had been working in the studio in a very solitary manner for quite some time as well as participating in a few residencies outside Chicago. I wanted to have those same types of opportunities I had at residencies far from home, but in my own city. Spudnik was a big step to getting me more entrenched in Chicago, then more recently I was a resident in Hatch at the Chicago Artists Coalition. Not every opportunity is strategically targeted for a particular outcome, but I think as artists we need to be proactive and seek things out. These experiences have been important to my development, especially being out of school for so long. It's like another form of education to go back and participate in these types of programs.
SF: That's really key: lifelong learning. It's so vital.
HC: Yeah, exactly. And to push yourself and reach out to people.
SF: Do you see any similarities between Tiger Strikes Asteroid and Spudnik?
I like to think of Spudnik as a role model for how it treats people who come into the space. It's always welcoming and open, and that's what TSA members hope for our visitors' experience. We're both non-profit, cooperative models. Our members pay dues and volunteer, which supports the space and is similar to Spudnik. The way we provide exhibitions for artists is similar. Spudnik is helping to support artists through programming, career development, exhibitions, and facilities access. Our facility is the exhibition space and we are trying to be supportive of the artists that exhibit with us. We also make time to review proposals or have studio visits with our members. These are ways we can be supportive of the members that are similar to how Spudnik operates – this interview for example!
SF: I love seeing crossovers like that and how it's mutually beneficial!  Focusing back on your personal practice, you utilize themes of shared environments and the natural world. How do these elements inform your work?
HC: I go for walks in the same places most days. I enjoy seeing how the landscape changes and what's growing, what's dying, how the light affects everything – whether it's sunup or sundown, or midday. All those subtle and not so subtle shifts and trying to be present in the landscape is a huge inspiration for me. My walking time is somewhat exercise, but more like time to think, open my senses up, and observe what's around me. I would say too that traveling has been really great over the years. Something that struck me when I was an undergrad – I went to Italy for a semester – was just how different the quality of green was there and how the colors would change so much. Later when I traveled to Japan and spent time in Kyoto, I thought about the possibilities within the space of the garden – many very small in scale while immense in the space they created utilizing distant views along the turns in the path. Though, I think my work currently is more grounded in my everyday experiences with the same places and seeing new things that come up that influences me the most.
SF: Is painting and print a springboard to trying other disciplines?
HC: My painting background is informed by my interest in a lot of other disciplines. I'm working to incorporate a number of different techniques like needle felting, hooking, various types of fabrics, and objects that can be manipulated are still like painting. Somehow the more I stick with painting, the more I am devoted to it, but I want it to incorporate all these other interests too. That's part of the challenge which is fun and interesting. There are  always new things to discover. My love of working on paper and process is also connected to that interest in print as well.
SF: Your recent shows were fantastic – is there anything upcoming that you would like to share?
Thank you so much, Samantha! One thing I want to share is an exhibition I co-curated with Teresa Silva that is installed on the fifth floor at Mana Contemporary called It feels like the first time. The exhibition includes forty-six of our artist members across the country and is on view through September 30th with some programming to come. Teresa and I are excited to share the exhibition more in the coming months. Aside from that, I've been invited to make a piece for Western Pole, which is an artist-run space run by Jesse Malmed. I'm excited to be part of that program, which is just one of the many innovative projects he's developed over the years.