This event will take place on Zoom. Participants will be emailed the Zoom link the day of the event.
Unlike the typical lecture, this event is inspired by the "Ask Me Anything" threads popularized through Reddit and offers a chance for our members to guide the conversation with guest artist Dan S. Wang.
Dan is an artist and writer living in Los Angeles. His current obsessions include histories of monetary policy, and the afterlives of the French Revolution. Recent projects include commissioned work for Station Museum (Houston) and Asian Arts Initiative (Philadelphia). He often has worked in collaborative situations, as in the past as a founding keyholder of Mess Hall, an experimental cultural space in Chicago, to a present day collaborative vehicle, Now-Time Asian America. His critical writings have been published internationally in book collections, museum catalogs and in dozens of artists publications. He holds an undergraduate degree in Religion and an MFA in Printmaking. Since 2019 he has been a Resident Artist at 18th Street Arts Center in Santa Monica.
Dan will talk about his work, A Ragbox of Overstood Grammars, a twenty-year retrospective of eighty-plus letterpress prints. This archive-in-a-box includes prints, posters, bookmarks, stickers, broadsides, menus, and napkins made under the imprint Propositions Press, and was last displayed in 2020 at Fonderie Darling in Montreal. Dan assembled the box as a way to mark the years in which letterpress printing was his most steady studio craft, a period that is now over. In addition to covering the work, he will reflect on what it means to make such a break in one's artistic arc.
After hearing stories from Dan's experiences surrounding letterpress over the years, the second portion of the event will be led by audience questions. Spudnik's Program Lead, Grace Makuch, will moderate a Q&A where guests are encouraged to share their questions for Dan, big and small about his career, interests, and experience with letterpress.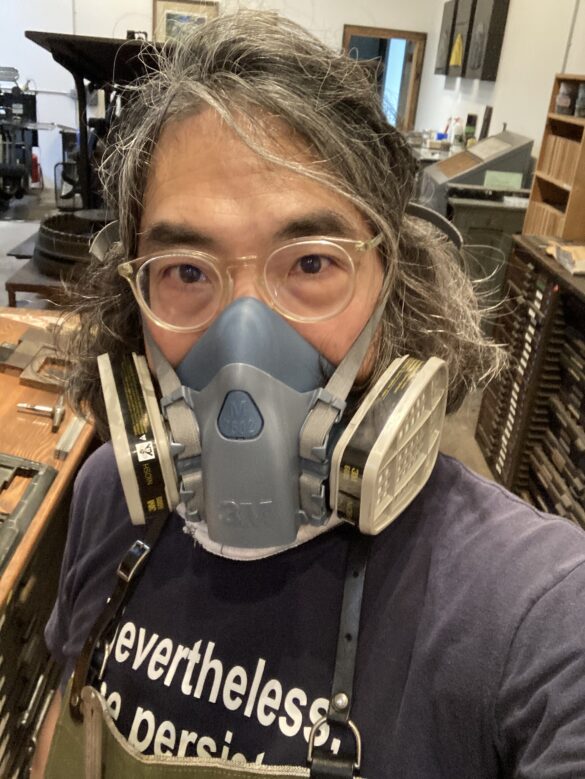 ---
This event is for everyone! ASR closed captions will be available. If you require another access service to fully participate or have any questions about accessibility, please contact Angee Lennard at angee@spudnikpress.org. To ensure the best experience, please try to contact us at your soonest convenience.