The Spudnik Press Cooperative Teaching Artist Cohort (TAC) supports print-based artists living in the Chicago area with a passion for art education. Through offering reliable arts-related income and professional experience to working artists, this program offers comprehensive support to Chicago artists interested in Arts Education. This program develops artistic teaching careers while bringing diverse perspectives to the various audiences that Spudnik Press serves, with a focus on: first-time printmaking students, emerging artists, and professional artists. The Teaching Artist Cohort provides a consistent foundation for classes and workshops, ensuring impactful educational opportunities for our community.
This program encourages the integration of traditional, technical knowledge of print processes with innovative, personal creative practices. Through expanding professional networks and the contemporary development of print media, each cohort of Spudnik Press Teaching Artists will engage in the accessibility of art education throughout Chicago communities.
Meet our 2022 Teaching Artist Cohort:

Serena Hocharoen is experimenting with installations, meals, mixtapes, zines, and toys for curiosity and storytelling. Her practice is about diasporic restlessness: harnessing the destabilization powers of dreaming, care, and gathering for survival and healing.
She holds an MFA in Printmaking from Tyler School of Art and Architecture, and a BA in Studio Art and Chemistry from Grinnell College. Her work has been exhibited at venues like Cherry Street Pier, Asian Arts Initiative in Philadelphia, and Public Space 1 in Iowa City. She likes to bike, carve spoons, attend potlucks, and sew quilts.
Classes: Take a look at Serena's current classes
Website: serenahocharoen.fish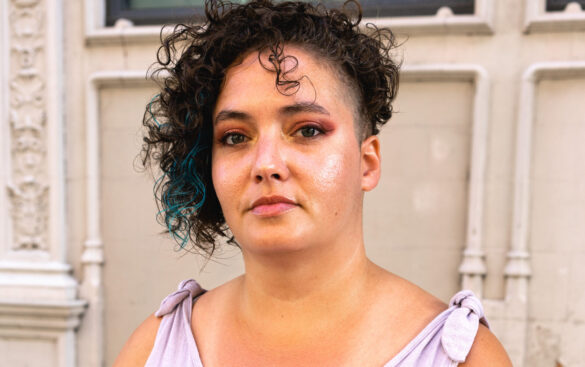 Angela Davis Fegan is a native of Chicago's South Side. She received her BFA in Fine Arts from New York's Parsons School of Design and her MFA in Interdisciplinary Book and Paper Arts from Columbia College Chicago.
Angela has mounted shows at Galerie F, Chicago Artists' Coalition, the DePaul Art Museum, The Center for Book Arts (NY), the University of Chicago's Arts Incubator and Center for the Study of Gender and Sexuality, the Hyde Park Art Center, SAIC's Sullivan Galleries, Columbia's Glass Curtain Gallery, SPACES (OH) and Revolve (AVL). She has held residencies at the Chicago Artists' Coalition, F4F, Connecticut College, the Hambidge Center (GA), Revolve (NC), and Project Row House (TX). Her work has been selected for book covers including The Truth About Dolls by Jamila Woods, Secondhand by Maya Marshall, and All Blue So Late by Laura Swearingen-Steadwell. Her lavender menace poster project has been written up by The Offing (LA Review of Books), Hyperallergic, Chicago Magazine, the RedEye, Go Magazine, Pop Sugar, the Chicago Reader, and Newcity.
Classes: Take a look at Angela's current classes
Website: angeladavisfegan.com

Millicent Kennedy's art practice collaborates with materials and time through performance, fiber, and print. The themes explored in her work often pivot on the tension between labor, and impermanence.
​Kennedy serves as the Curator of Exhibitions at the Fine Arts Center Gallery in Northeastern Illinois University and teaches classes and workshops in and around Chicago, where her studio is located.
 She received her MFA from Northern Illinois University where she was awarded the Helen Merritt Fellowship. She's received solo exhibitions from Belong Gallery, SXU Art Gallery, Roman Susan and Parlour and Ramp. 
Classes: Take a look at Millicent's current classes
Website: millicentkennedy.com

Mariah Joyce's artistic practice is a tool to process and attempt to understand the world around her utilizing repetitive action as a form of meditation. She has an academic background in philosophy and a professional background in journalism, and both of those influences are evident in her visual work. Mariah's pieces typically start as questions about or attempts to understand a place she's been or an experience she's had. Image and text are then combined and layered into a visual meditation, and serve to catalogue the experience and whatever feelings it evoked without attempting to make any solid determination about what it meant.
Classes: Take a look at Mariah's current classes
Website: mariahellenart.com
---
The Teaching Artist Cohort Program was made possible by the support of



Program Overview:
The Teaching Artist Cohort Program at Spudnik Press Cooperative provides print-based artists a full year of unfettered studio access paired with 9 months of ongoing teaching opportunities.  Throughout the program, Teaching Artists will fulfill core educational offerings at Spudnik Press through teaching introductory and advanced classes, private lessons, youth and family programs, and have the opportunity to develop unique classes or workshops that build upon their personal artistic practice.
Teaching Artists receive:
A monthly stipend of based on the number of hours taught per month
24/7 Keyholder Access to the studio
A Spudnik Press Cooperative Annual Membership
The opportunity to audit courses offered at Spudnik Press
Professional development opportunities
This program provides educators the opportunity to accrue experience teaching varying age groups in various settings. Additionally, Teaching Artists can build on their personal art practice through full access to Spudnik Press studios. With this unfettered access to a communal workspace, artists can network, create conversations, and make lasting connections within our community.
Eligibility:
This Teaching Program is committed to serving:
Artists whose current artistic practice utilizes printmaking
Artists with enough printmaking experience to work independently in multiple areas of the studio (Please review our facilities or visit the studio for more details)
Artists who demonstrate an ongoing commitment to community arts education
Artists who are local to the Chicago area with reliable transportation to and from Spudnik Press Cooperative
Artists that have experience developing and leading class curriculum
Artists who are able to commit to approximately 6 hours of teaching per week for the duration of this program
Expectations:
Teaching Artists are expected to:
Commit to the full 10 months of this program with the opportunity to continue teaching at Spudnik Press after that period ends.
Develop creative course proposals in an effort to develop their artistic teaching careers as well as bring new, diverse perspectives to the various audiences that Spudnik Press serves.
Fulfill core educational offerings at Spudnik Press, including but not limited to:

Screenprinting (paper & fabric)
Risography
Relief
Monoprinting
Intaglio
Letterpress
Cyanotype
Zines & Comics
Papermaking
Book Arts

Complete thorough authorization to Spudnik Press equipment, facilities, and procedures during their first month in the program. After completion, Teaching Artists should have enough experience to work independently in the printmaking processes required for their courses.
Be dedicated to the teaching of printmaking by leading approximately two educational opportunities per week through a combination of group classes and private lessons, culminating in an average of 22-24 hours of teaching per month. On top of the monthly base pay of $500, Teaching Artists will earn $22/hour for each hour of teaching that exceeds the projected 24 hours of teaching within a calendar month.
Important Details:
Application Fee: None; Free to apply
Deadline To Apply: applications are currently closed
Program Period:  August – May
Duration: 10 months (one month of training, 9 months of teaching)
Compensation: $500 per month based on maintaining a rolling average of 22-24 hours of teaching per month. Additional teaching hours will be compensated at $22/hour.
Selection Process:
Teaching Artist applications are reviewed by a panel that includes one staff member, Spudnik's Executive Director, and one member of the Spudnik Press Board. Decisions are based on the quality of the proposal, teaching experience, the strength of the portfolio, and how well the interests and skills of the applicant fits the educational needs of the studio. In addition, we seek artists who are capable of working independently while bringing in new, unique educational opportunities to our audience. We also consider other aspects such as scheduling logistics and alignment with current organizational goals. All finalists will be offered in-person or virtual interviews conducted by Spudnik's Executive Director.
To Apply:
Applications are currently closed – check back in January 2023!
Please apply through our online application form. You will need to have the following ready to submit:
Letter of interest (one page): Please address why you are interested in this program, personal teaching goals, learning goals for students, and/or teaching philosophy.
A portfolio of 7-10 images:  Images must not exceed 1MB each and should be titled with your name and a file number. Work should include print-based work and work from the last two years.
Image List: For each work, include the file name, title, medium, year of completion, and dimensions.
Artist Bio: Please limit to 100 words or less.
Current Resume or CV
1-3 References with contact information and their relationship to you.
Teaching Artist Cohort Informational Presentation
For questions regarding the application, email sara@spudnikpress.org
---
Everyone's safety is important to us. Participation in this program requires being onsite at Spudnik Press Cooperative and that per our Covid-19 Policy, all artists accepted into the program will be required to provide staff with proof of vaccination. Where possible, we will make reasonable accommodations for artists with a medical or religious exemption.
---
Spudnik Press Cooperative encourages applications from artists of all backgrounds regardless of race, color, gender or religious affiliation, including but not limited to: artists who identify as  BIPOC and/or LGBTQ, women artists, artists with disabilities, and veterans. We understand that teaching experience comes in many forms, both formal and informal, and we welcome applicants with diverse teaching backgrounds. 
Our Accessibility page includes additional information about getting to the studio and using the equipment.